No Matter What The Source Of Your Pain Is Or How Often You Have It, This Cream Will Remove It Faster Than A Speeding Bullet.
Dear Friend,
Before we go into the details of this miracle pain reliever, you have to hear a story that will reveal exactly why this page may be the most important thing you've ever found.
My dear wife was in pain.
She was in so much pain that simple daily tasks became nearly impossible for her to do.
Her severe pain began in 1995 when she was hit with a stroke that caused muscle spasms and made her hurt from head to toe.
Since then, she developed arthritis, diabetic neuropathy, and severe knee pain.
Her crazy doctors kept prescribing ridiculously strong pain killers that would have her feeling foggy and dull all day long. The muscle relaxers they prescribed put her to sleep almost instantly.
In her desperate search for relief that didn't knock her unconscious, she fell upon a page similar to this one.
Right away, her skepticism kicked in. It was hard to believe that some simple cream could be the solution she'd been trying so hard to find for so long.
She ordered the cream anyways and eagerly awaited its arrival in the mail.
When the box arrived, she tore it open like a small child tears apart their presents on Christmas morning and immediately disappeared into our bedroom to apply this cream to the spots that were most sore at that moment.
My heart nearly stopped when she ran out of the bedroom screaming 15 minutes later.
Here I am thinking that something terrible has happened, until I saw the tear streaming slowly down her cheek. She'd finally found some relief from the incredible amount of pain she had been dealing with for so many years.
It helped my wife deal with her massive pain and it can help you, too.
This Advanced Pain Therapy Cream will relieve your pain from sore muscles and inflamed joints caused by arthritis, overwork, daily activity, or stress, within 15 minutes!
And we do it without drugs that can be highly habit forming and dangerous due to the high risk of overdose.
You Will Quickly And Easily Reach The Source Of Your Pain And Destroy It Where It Begins.
It's applied topically, so it penetrates the skin and zeroes in on the source immediately. Rub it into the affected area and it ends your pain, thus restoring your flexibility and mobility. It allows you to return to your normal activities, free of pain and discomfort.
Click to play the video below to see what one of our customers has to say:
Read on to see what our customers have to say:
To the makers of Advanced Pain Therapy Cream,
I have lived with constant pain for the last 14 years. I had a stroke in 1995 and that is when my muscle spasms and pain started. Since that time I have developed arthritis and diabetic neuropathy pain and severe knee pain. Over the years I have tried almost every thing available for pain relief. I hate the foggy feeling from pain medications. Muscle relaxers put me to sleep. I just want to be able to get through the days comfortably without being drugged.
When I say I have tried almost everything I mean it including muscle injections, massage therapy, tens treatments, physical therapy, medication, and numerous over the counter pain ointments and treatments. When I heard about Advanced Pain Therapy Cream I was very skeptical. I thought it would just be another disappointment. I am happy to say I was wrong. I tried it for the first time and got relief within minutes of applying it. I thought that it couldn't be true. I use it on my legs, my knees, my lower back, my shoulders, my hands, my elbows and my ankles.
Advanced Pain Therapy Cream is the miracle I was praying for. I even use it on my legs at night before I go to bed to stop the pin prickle sensations I get when I lay down to sleep. It works. Of all the things I have tried over the years Advanced Pain Therapy Cream is the only one that delivers on it's promise of pain relief. It works so well I just had to write to you and offer my story to share with others who are considering Advanced Pain Therapy Cream for their pain. It works. It has made my life more bearable! I will continue to use it and you can consider me a life time customer.
Thank you Advanced Pain Therapy Cream.

Patricia B - Florida
After many years suffering with Back Pain, I had back surgery 4 years ago, most of my back pain was gone after the surgery, but once in a while I made some mistakes like heavy lifting (grandchildren, groceries, etc) and I used some of my back muscles in a defense mode, that got sore for several days or weeks, therefore I suffered of Chronic Lower Back Pain.

Most of the time I need therapy like Ultrasounds of the Lower Back, Massages, etc. I used every local Cream and Lotion available on the market in USA and a few from Europe, until my brother introduced me to Advance Pain Therapy Cream, now I apply the cream at the first symptoms of discomfort and many times I have been able to abort the Back Pain crisis after a few applications of Advance Pain Therapy Cream. I recommend this product without any hesitation, and I will not go on vacation without a bottle of the cream.

Eva T. - Miami Beach, Fl
I'm a healthcare administrator that stays active with exercise. However, after working long hours in front of the computer I noticed that I developed severe lower back pain and neck pains. It was so severe that I could not lift myself straight out of bed. I saw my personal physician with no relief from his treatments. The pain was getting worse since I could barely turn my neck or bend my back. I began to get worried and thought about getting diagnostic imaging. After a recommendation, I tried Advanced Pain Therapy Cream and within literally around 10 minutes after rubbing it into my lower back and neck, I quickly began to notice the muscles loosen. Within 20 minutes I was able to bend down and stretch (something I couldn't do before). I even went to the gym the next day. This product is truly amazing since it not only provided relief, but it healed my lower back and neck pain. I strongly recommend this product to any one with sore back/neck pains and muscle cramps that is looking for a natural, healing cream with no side effects.
Thank you.

Marc P. - San Francisco, CA
I am very pleased with the results from your Advanced Pain Therapy Cream. I used your cream and I got results that I have been unable to get from other creams that I've tried over the years. Your stuff works, and that moves it to the top of my pain relief list!! So whenever I feel that nagging pain in my lower back I'll grab your Advanced Pain Therapy Cream and I'll know that relief is just a few minutes away. Thanks guys for making my days pain free.
Bob B. - California
I am an 85 year old widow with advanced Osteoarthritis, joint deformation and chronic pain due to my age. About 10 years ago, a young girl ran a red light in Miami, hit my passenger car door, and I ended up at Jackson Memorial Hospital with a broken left knee that required surgery, several pins and screws.
Since my accident I had been suffering of left knee pain, up and above my regular Osteoarthritis pains, but 2 years ago I found Advanced Pain Therapy Cream, and now I can go to sleep and tolerate my joint pain much better, and it allows my arthritic prescription to work better.
I know that I will never be pain free, but before I was diagnosed with a #8 pain in a scale of #1 to #10, where #1 is not pain at all and #10 is the most miserable pain you can suffer. Now my physician said that my pain scale is down to #3 and sometimes #2, I used Advanced Pain Therapy Cream as indicated 4 times a day, as needed for pain. I am glad to have found this great cream, and I am very glad to write this statement.
Carmelina M. - Miami Beach, Florida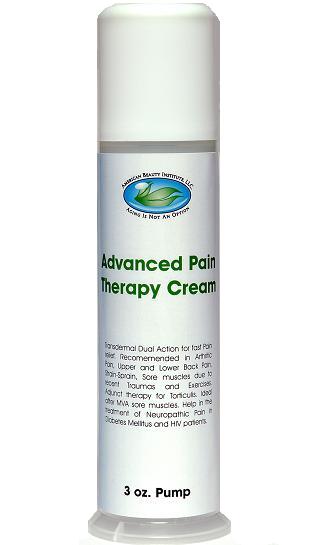 Advanced Pain Therapy Cream works at both relieving pain, and stimulating healing. It does all this with no side effects (seriously). It goes to work where the problem starts and offers long-term benefits, and aids the healing process, increases mobility and regenerates damaged cartilage as it helps relieve pain, and inflammation.
Just Imagine Being Able To:
Get faster pain relief than you ever imagined possible.

Reduce the swelling and stiffness associated with arthritis and other debilitating disorders.

Reduce or eliminate leg and back cramps, general soreness and muscle spasms in mere moments.

Provide safe, immediate relief of pain with ZERO SIDE EFFECTS.

Actually nourish the joint and aid the healing process
Here Is Why It Works Better Than The Rest:
A study in Arthritic Pain was conducted by Dr. Tony Perez, who practiced Geriatric Medicine for over 30 years and had one of the largest Nursing Homes populations in the State of Kentucky.
Dr. Perez is a Fellow of the American Academy of Family Physicians.
He also was a Medical Investigator with, Studies Phase II & III, for Sandoz Laboratories, Wallace Laboratories, Merck Sharp & Dohme, in the USA, and New Product from England. Dr. Perez was the Medical Director of 4 Nursing Homes in Louisville, KY., (1975 -2005) and was the Medical Director of Paradigm Medical Rehab with 5 Clinics in Kentucky, plus 1 in Florida.
During 1990 to 2002, Dr. Perez conducted studies with Geriatric confused patients. He applied Capsaicin creams to the joints of some of the patients, and regular Vaseline to the joints of others. The purpose was to monitor the number of requests received by the nurse station for pain medication in the evening.
Patients receiving Capsaicin had few, if any, calls for pain relief during the night.
Dr. Perez then did several studies with Menthol in low and high doses.
With time, Dr. Perez added more than a dozen ingredients aimed at alleviating local muscle and joint pain.
This is not some cream you can pick up at your local drug store!
Clinical research confirms that Advanced Pain Therapy Cream is capable of reducing or eliminating leg and back cramps, general soreness and muscle spasms.
Millions Of People Suffer Through Their Days
With
Muscle And Joint Pain, Are You One Of Them?
You are not alone:

Over 46 million adults in the United States have been diagnosed by a doctor with some form of:

Arthritis

Lupus

Fibromyalgia

And Many, Many More…




What Do You Have To Lose, But Your Pain?

I INSIST you try it out completely at my risk. Try it for 30 days and FEEL your results for yourself. If you're not 100% blown away by the results, just return it for a full refund, no questions asked. But I'm betting once you feel the relief you'll never go back to a life of pain and suffering!

Target Your Pain And Get Relief In Under 15 Minutes

Arthritis Pain
Relieves your arthritis pain and helps keep you active.

Muscle Pain
Relieves pain when you strain muscles, or sprain tendons or ligaments.

Joint Pain
Rebuild Cartilage, lubricates joints and stimulates the growth of new cartilage.


This is an amazing opportunity and there's NO WAY YOU CAN LOSE. If you don't get relief from your pain, just return the unused portion of your Advanced Pain Therapy Cream and we'll buy it back from you - Case Closed.

The Actual Label From The Bottle:

Drug Facts
Active Ingredients:
Menthol 10%, Methyl Salicylate 30%
Capsaicin 0.075%

Uses ;
Back Pain, Strain-Sprain, Sore muscles due to recent Traumas and Exercises. Adjunct therapy for Torticolis. Ideal after MVA sore muscles. Help in the treatment of Neuropathic Pain in Diabetes Mellitus and HIV patients.
Warnings:
Allergies to any of the components.
Directions:
Apply small amount directly onto Skin of effected areas. Rub into area until cream has disappeared.
Other Information:
Store at 20-25° C (68-77° F)
Inactive Ingredients:
Water, Caprylic/Capric Triglyceride, Rosmarinus
Officainalis (Rosemary) Leaf Extract, Ethyl Alcohol,
Glycerin, Glyceryl Acetate, Acrylates/Acrylamide
Copolymer (and) Mineral Oil (and) Polysorbate 85, Dimethyl Selfone (MSM), Arnica Montana Flower Extract, Tocopherol Acetate (Vitamin E), Cetyl Alcohol, Acrylates/C10-30 Alkyl Acrylate Crosspolymer, Triethanolamine, Camphor, Citric Acid, FD&C Blue #1, Fragrance, Trisodium NTA, Rosmarinus Officainalis (Rosemary) Leaf Extract, Citric Acid, DMDM Hydantoin (and) Iodopropynyl Butylcarbamate.
No animal testing was done with this product.
This product does not contain any ingredients from Bovine, Ovine, Carpine, or any ruminant sources.
Advanced Pain Therapy Cream makes no representations or warranties, either expressed or implied, of merchantability or fitness for a particular purpose with respect to the information set forth herein or to the product to which the information refers. Advanced Pain Therapy Cream wil not be responsible for damages resulting from use of or reliance upon the use of this information.
Disclaimer: Statements contained herein have not been evaluated by the Food and Drug Administration.
This product is not intended to diagnose, treat, cure or prevent any disease.
SPECIAL OFFER for FIRST TIME BUYERS...
BUY ONE - GET ONE FREE !!!
This is a very limited offer that may be withdrawn
at any time...so ACT NOW !!!
2 Bottles for only $30.92!
Including Shipping
Your Advanced Pain Therapy Cream will be rushed to you by Priority Mail, and you can start a life without pain within the next 2-3 days. And remember, it's 100% guaranteed.

Sincerely,
Ray Barkley

P.S. Thousands of people just like you are already benefiting from Advanced Pain Therapy Cream. Now it's your turn... You've got nothing to lose!

P.S.S. You MUST respond now to stop the pain. Don't miss out, and don't waste another day without Advanced Pain Therapy Cream.

Back Pain - Fibromyalgia Pain - Joint Pain - Stop Pain